We as a Best Rent a car with driver in Dubai Company takes the stress of your all kinds of transportation requirements, either transport need is business trip, Airport transfers, meeting trips or even full day Dubai or Abu Dhabi cities leisure trips
Our Latest News
Rent a Car with Driver in Dubai
We as a Best Rent a car with driver in Dubai Company takes the stress of your all kinds of transportation requirements, either transport need is business trip, Airport transfers, meeting trips or even full day Dubai or Abu Dhabi cities leisure trips.
Dubai UAE is famous for its high-class exotic lifestyle, architectural marvels, high skyscrapers, and the business hub in the Middle East and one of the best holidays destination, thus thousand of businessmen, tourists, and travel lovers from all over the world landing in Dubai UAE each day to explore this beautiful skyscraper city, and they are usually in need of private car rental Dubai services for quick and effortless transportation across UAE.
Rent a car in Dubai with a driver is a great and convenient way to roam around Dubai, if you are a family with more than 4 people, then the ideal choice for you to hire a car with a driver instead of riding by public transport buses or taxi.
Indeed you must be advance planed prior to arriving in Dubai to do a lot of shopping and travel around, here you will feel to approach private Rent a Car with Driver Dubai based companies to take you around Dubai to shopping malls, leisure attractions, etc in a very convenient, stylish, and cheaper way.
Dubai is a business city, so transportation is not just limited to hire a car, there are many options available like Dubai Metro, Dubai Taxi, and RTA Buses, but these services will be costly if you need a full day of transport to roam around Dubai city or need a ride for a long journey like Dubai
We are one of the best Rent a car with driver company in Dubai serving tourist, families since 2007 with a great track record of safe and reliable transport. Our customers/ clients are highly VIPs, families and elite class people thus we have been maintaining the best and brand new Cars, Van and Buses in our fleets collections.
In our car rental Dubai department we provide on-demand private chauffeurs services with experienced drivers all over UAE, you can rent a car with a driver by one call or just WhatsApp 24/7 at +97152299741
Should you are planning to visit Dubai and want to explore Dubai city's top tourist attraction on tide budget, here we come on top to provide economic offers on hiring cars with drivers daily or weekly basis. We are committed to providing the best rent car with driver in Dubai services.
Being part of the leading Bus Rental Dubai company we maintain a high quality of fleets which contain 7 Seat Car, 10 Seater Car, 12 Seater Car, 14 Passenger Van, 25 Seats Coaster Bus, 33 Seater Rosa Bus, Luxury Buses 35 and 50 Seaters.
Our chauffeurs' vehicles: cars, van, and bus fleets are carefully chosen by high technically knowledgeable experts team, which enable us to maintain our best reputation in the competitive business of Rent a Car with Driver in Dubai.
Hiring Car With Driver In Dubai
If you are visiting Dubai with a small group and happened to have rent a car with a driver in Dubai and you don't have a local or international driving license and not aware of Dubai routes and wish to have sightseeing Dubai and other states of UAE, so the ideal option is to approach rent a car with driver companies like us, where we take pride to tell we will come on top.
Get connect us and grab the best rates by one call. Our sales representative will assist you further.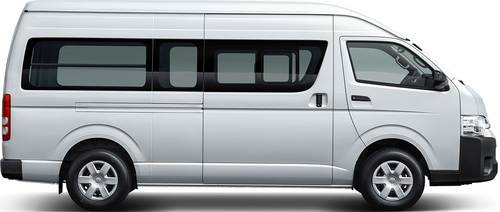 Rent A Car With Driver For Family Transport
If you are planning to visit Dubai with a small group of family and worried about transport and thinking which will be the most economical solution of getting transport for your family, either to go with Dubai Taxi, Metro or RTA Buses, Here We Come to provide you with the best and budget solution.
We have the best economic packages for family transports in Dubai in the shape of Cheap Rent a Car with a Driver in Dubai UAE.
Book a family transport private car with a driver with us and let our well-experienced driver warmly welcome you at the airport on arrival to escort you to your hotel or any destination within UAE on time comfortably, after relaxing and freshening up in the hotel driver will take you for a dinner or any destination according to your plan.
For other days, if you have pre-planned your Dubai and other cities itineraries it's good to go, instruct our driver where to take you according to your schedule.
If you are not pre-planned and not well aware of Dubai and other cities of UAE, then let us schedule your itinerary in a budget way according to your wish.
What Are The Rates Of Rent A Car With Driver In Dubai?
The rate of Rent a car with drivers in Dubai is not static and may vary subject to your needs of the transportation, size of the group, and vehicle size and specifications. For example, the rates depend on how many seat vehicles do you need, is it 5 seater, 7 seaters, 10 seaters or up to 14 seaters, and the destinations you want to travel to, etc.
Also, the rates depend on your travel itinerary and the number of days you need to hire a car. More than 5 days booking rates will be cheaper compare to hiring cars for few days like one or two days.
Contact us for a customized quote. Just let our salesperson know the below information so that we can provide you with the best option of rent a car with a driver which suits your needs and budget.
How many seats cars you need.
How many days you need to book the car with the driver.
Half-day tour or full-day tour.
All days inside Dubai city transport or other cities you want to travel to also.
Mention if you need Abu Dhabi city sightseeing from Dubai too.
Airport transfer needed or not.
Desert safari Dubai if needed.
Mention any other special needs you required etc.
Instant quotes in line with your requirements will be sent within 5 minutes to your email or WhatsApp no.

What Are Included In The Price Of Rent A Car With Driver?
The car rental with driver rates and packages we offer includes below:
Fuel / Gasoline will be from our side.
Experience driver from our side.
Salik / Toll Charges will be under us.
VAT (Value Added Taxes) from our side.
Parking charges exempt Airport parking.
Note: The rate of long-distance rides like Dubai to Abu Dhabi transport or Dubai to other city transport by rented car is slightly higher than Dubai city local transport. Also, the full-day considered max 10 hours while the half-day considered 5 hours, and excess hours will be charged as overtime accordingly.
Where Rent A Car Driver Will Take Us? Services hirer or Car hirer party could customize their own itinerary as per their wish, requirements, and needs. If you are not pre-planned or not much aware about where to travel in Dubai or other cities, so we can apply our default Dubai tour or Abu Dhabi city tour itineraries which mostly cover all the top tourist attractions within the UAE cities. Our full itineraries of Dubai city tour and Abu Dhabi tour can be accessed by clicking here Dubai Tour Itinerary, Abu Dhabi tour itinerary.
Places to visit in Dubai tour by rented car:

Deira Dubai areas
Gould Souk Dubai
Al Fahidi Dubai
Burj Al Arab
Dubai Beach areas ( Jumeirah Beach)
Museum
Mosque in Jumeirah
Atlantis the Palm
Miracle Garden
Global Village (Season wise)
Mall of The Emirates
Dubai Mall
Burj Al Arab
Etc
Places to visit in Abu Dhabi from Dubai by renting a car with driver deals:


Yas Island Abu Dhabi
Ferrari World (Formula 1)
Abu Dhabi Sheikh Zayed Mosque (Grand Mosque)
Heritage Village Abu Dhabi ( Historical / Traditional place of Arab)
Abu Dhabi Beach
Dates Market Abu Dhabi
Iranian Market
Abu Dhabi Mall
Yass Mall
Louvre (Museum )
etc
Can We Rent A Car Without Driver?
We don't rent cars or any other transportation vehicles without drivers as we have reserved driver for each vehicle.
We rent cars with driver only. We also don't rent cars or any other of our vehicles on a monthly or long terms lease basis.
We rent cars with Drivers on a daily and weekly basis only.